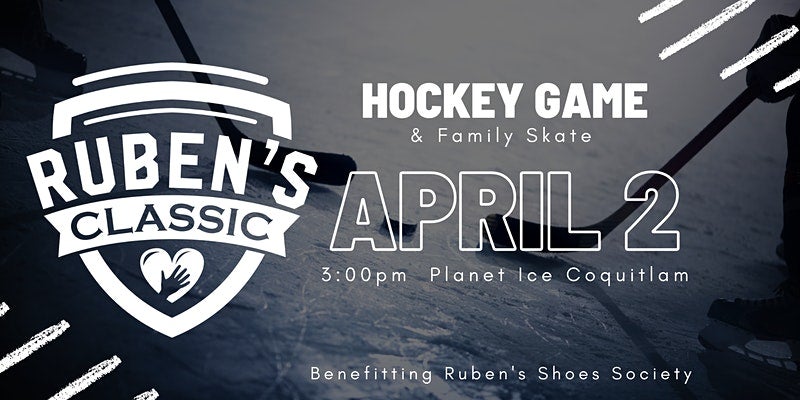 WE ARE BACK! The
4th
Annual Ruben's Classic
Hockey Game will be on
Saturday, April 2nd
at
Planet Ice Coquitlam
. Join us at 3pm for a family skate followed by puck drop at 4pm. 
Buy your tickets HERE! 
Ruben's Shoes
is a charity very close to our hearts! Dave is a father of two beautiful young girls and we celebrate how fortunate we are to live here and have all the opportunities we have. Not everyone has the same opportunities. 
"We believe that education is the key to breaking the cycle of poverty. We are on a mission to deliver access to education to the millions of children around the world living without it."
Now that's a cause we can get behind and have been supporting for over 8 years and Dave is an active Director on the Board. 
This game ACTUALLY makes a difference!
Year 1 - Ruben's Classic 2017
Our first ever Ruben's Classic raised over $7,000 that was used towards purchasing a plot of land in the Dominican Republic to build a Secondary School for our 200 elementary students.
Year 2 - Ruben's Classic 2018
In 2018, the money raised at Ruben's Classic was put towards clearing the land and building a retaining wall, making it a much needed safe place for our students to play outside.
Year 3 - Ruben's Classic 2019
The money raised in 2019 was used to kick off the build of the secondary school. The school was completed and opened its doors in August 2020.

Look at the Secondary School now!
We are so proud of what this hockey game has helped Ruben's Shoes accomplish over the last 4 years and we hope you can make it out for another year supporting Ruben's Shoes Society.
All the money raised will go directly to buying computers, books, desks and supplies for the Secondary School.
So please join us 
Saturday, April 2nd at Planet Ice Coquitlam!
We look forward to getting back on the ice all together. See you soon!