Fraser Valley real estate market contracts and adapts in response to public health measures to mitigate COVID-19. 
Although early March numbers promised a busy spring, we saw both sales and listing sharply decreased as we implemented social distancing regulations.
Although volume of new listings drastically fell in April, the market remains stable.

We expected the market to react this way given the circumstances, however the activity that is taking place is encouraging and should continue to increase as restrictions are slowly lifted.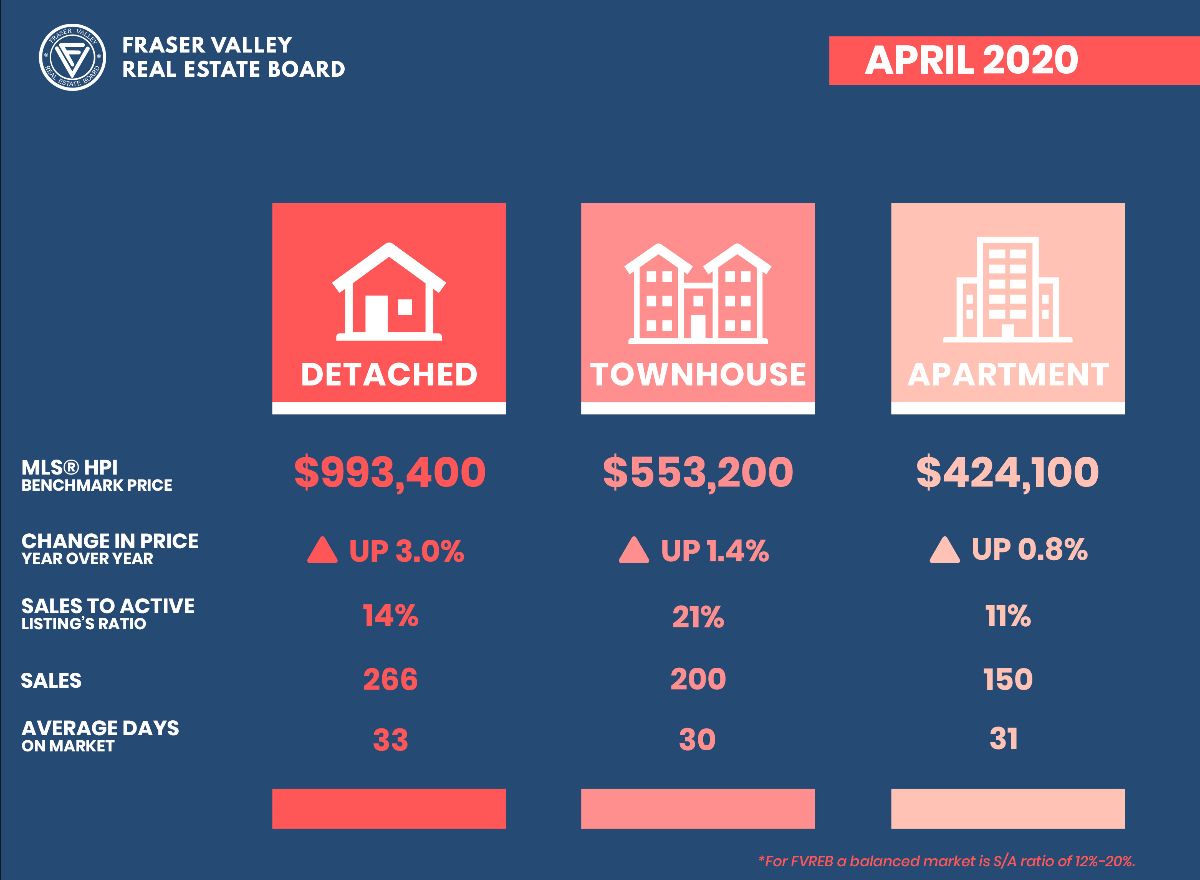 As anticipated, real estate activity saw a steep decline last month in response to the pandemic lockdown, resulting in one of the slowest Aprils in Fraser Valley history.The Fraser Valley Real Estate Board (FVREB) processed a total of 688 sales on its Multiple Listing Service® (MLS®) in April, a decrease of 52 per cent compared to sales in March and a decrease of 50 per cent compared to April of last year. According to FVREB historical data, last month's sales were on par with April sales in 1983 through to 1985; and new listings are in line with numbers last seen in April 1981.
Chris Shields, President of the Board, observes, "Even though March's initial numbers promised a banner spring, we expected the market to respond this way in April. Both sales and listings contracted in tandem as we all moved swiftly to embrace the measures necessary to respond to this global pandemic. Given that the volume of new listings coming on stream fell even faster than sales in April, the market remains stable."
"What has been most impressive is how the industry – both REALTORS® and our clients – have pivoted and adapted to innovations such as live streaming open houses and e-transactions that we anticipate will become mainstream even when physical distancing is no longer a requirement. These tools not only ensure public safety; clients appreciate their speed and efficiency."
The Fraser Valley Board received 1,416 new listings in April, a 47 per cent decrease compared to March's intake of 2,666 new listings and a 58 per cent decrease compared to April of last year. April finished with 5,997 active listings, a decrease of 1 per cent compared to March's inventory and a decrease of 24 per cent year-over-year.