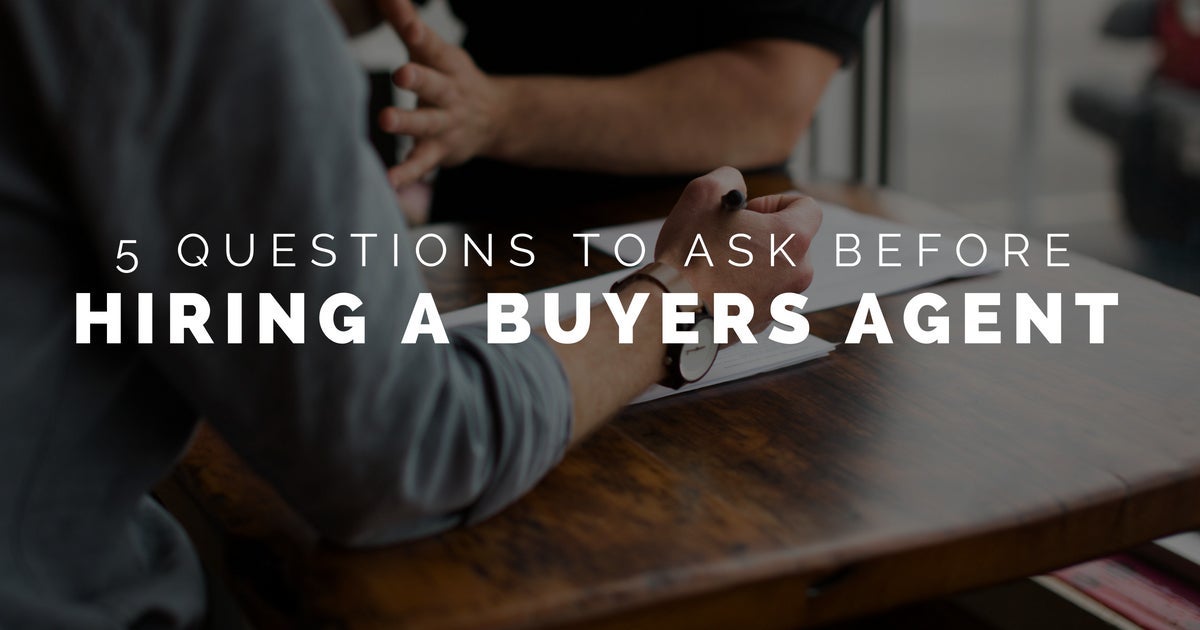 As a home buyer there are many questions, concerns and uncertainties that you may have before and during the home buying process. That is why before you begin your search you should consider hiring a buyer's agent, which will help elevate these unwanted stresses and moments of insecurity.

Now the process may sound simple but there are questions you should ask to ensure you hire somebody that you can trust and who can represent you to the highest standards and your best interests at mind.

To help you choose the best agent for the job, here are five questions you should ask when it comes time to hire a buyers agent.

1. Are you a full-time agent?

This is important because you need to ensure the agent and their resources are available to you when you need them most. Things may move at a fast pace and it's very important your agent is accessible not only to you, but to the selling agent as well. A good example would be last minute counter offers from the seller with an expiry time on that offer (yes offers do expire) which could mean the difference between you getting the home or not. If your agent is unreachable while they are at their other job this could not workout in your favour.

2. Do you have testimonials from your past clients?

Testimonials are a key indicator of the type of agent they are. Keep in mind that you are hiring them to represent you, like any job interview the employer likes to see references to crosscheck the candidates. Reading recent reviews is a strong indicator of who the agent is and is a great way to learn more about who they are and how they work.

3. How often will we communicate?

Communication is key in all relationships, and the relationship with your realtor is no different. You should ask them if they will provide market updates and inventory updates, and how often? 
Will they contact you via phone, email, text message and what hours do they shut down (don't worry during negotiations or anything super sensitive to the purchase, all hardworking agents should make themselves available). 
Is the agent accessible early in the morning, in the evening and on weekends? Lots of agents have families so it's important to ask if there will be specific times when they can't be reached. You probably have a preference of how you like to communicate so it's important to bring this up during your first meeting.
Remember that this process requires strong communication between you and your agent. You want an agent who stays in touch and checks in with you on at least on a weekly basis or if you are in a sellers/fast paced market you want to be in communication almost daily to avoid missing out on potential opportunities.
4. Will I be working with you directly or handed off to someone else on your team?
You should ask the agent if they will be handling all the aspects of your transaction or if they will be delegating some tasks to a sales associate or administrative assistant. A knowledgeable assistant is a great resource and tool for agents but you want to ensure that you are working with the agent you are hiring during the key times of your transaction. 
Connection and a strong relationship is crucial, not only does it build trust it also develops confidence in the person representing you when making one of the biggest decisions of your life.

5. What kinds of partnerships do you have with home service professionals?

A valuable agent will not only have connections with lawyers, lenders, appraisers, and home inspectors, but they'll have preferred relationships with handymen, painters, electricians, plumbers, cleaners and more. These relationships can prove to be invaluable when buying and it's always nice to work with a trusted referral.

The buying process for the most part should be exciting and fun. So before you begin make sure you hire an agent who is the right fit for your personality and meets your expectations.

If you have any questions about working with a buyers agent, or would like to meet to discuss buying your next home, please reach out to me.
Happy House Hunting!
For more useful information on becoming an educated buyer in today's market, 
contact me
 for a free copy of my 
Becoming an Informed Home Buyer 
guide.